A1AA's Northcoast Homeshare helps older adults find someone to share their home and continue to live in the community. We support both the home provider and the home seeker in finding a compatible match.
Homesharing is a living arrangement where two unrelated people share the homeowner's dwelling. It matches people looking for housing with people that have some extra space in their home. Each person has their own private space while sharing certain common areas in exchange for rent, services, or both. No two homeshare situations are alike; each is tailored to the needs and desires of the individual people involved.
Northcoast Homeshare helps meet community housing needs and benefits renters and homeowners alike. Our process includes an application, background and reference checks, an interview, inspection of the rental space, and follow-up after a match is made.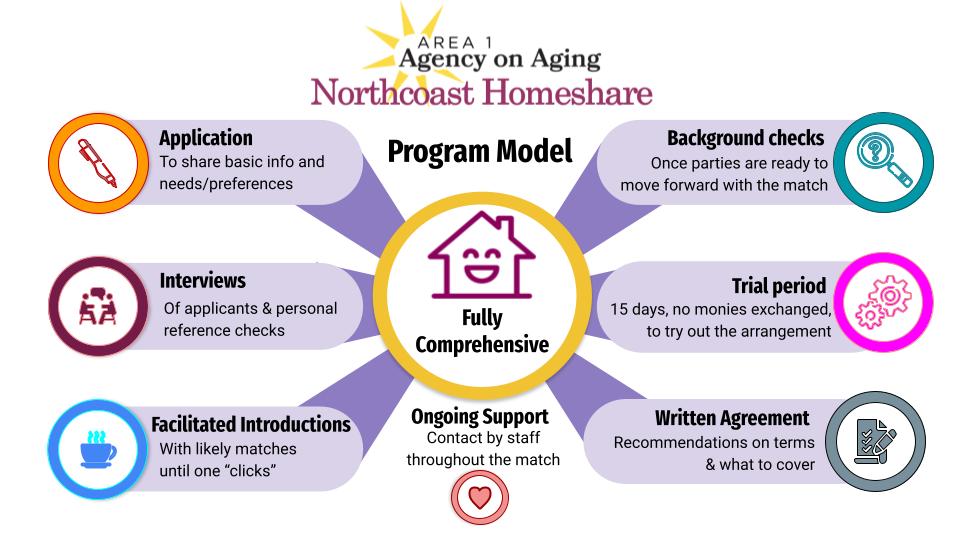 For more information, contact the Northcoast Homeshare program coordinator at [email protected] or call 707-442-3763 x213.
Interested in becoming a home provider? Apply now using our Potential Host Application: Download the PDF, fill it out, then email it to [email protected].
Are you a home seeker? Apply now using our Potential Guest Application: Download the PDF, fill it out, then email it to [email protected].
Or you may mail or drop off the application to 333 J Street, Eureka CA 95501. Applications can also be picked up at that location.
Introduction to Home Sharing Booklet
This is a good place to start to learn more about home sharing. This booklet is meant to be used for reference purposes only and is not intended to be used for legal or financial advice.
Northcoast Homeshare Info Booklet
Homeshare Resources
Quick Introduction to the Northcoast Homeshare Program
2 minutes 30 seconds from a conversation between Julie Andre, program coordinator, and the local KHSU radio host about the concept of homesharing and what it looks like locally.
https://www.khsu.org/show/north-coast-conversations/2022-02-28/north-coast-conversations-north-coast-homeshare
The Concept of Homesharing: What it is and What it is Not
Excerpt from a July, 2021, Zoom presentation on homesharing by Northcoast Homeshare program coordinator Julie Andre.
Sharing Housing by Annamarie Pluhar
Annamarie has been sharing housing for over twenty and wrote the book called "Sharing Housing: A Guidebook to Finding and Keeping Good Housemates." Check out her blog on the website for more helpful tips and heartwarming stories of successful homesharers.
National Shared Housing Resource Center
A clearinghouse of information for people looking to learn more about home sharing.
In the News: Local Articles on Northcoast Homeshare
"WHO'S AFRAID OF THE NIGHTMARE HOUSEMATE?" (Senior News; 10.2023 Edition)
Sharing a Space: An Alternative Way to Meet Community Housing Needs (Times-Standard, 7/2020)
"My Home is your Home": a testimonial by 2 local participants (Senior News, 10/2022)